High School Activities
We believe that involvement in clubs, athletics, and school leadership provides valuable lessons and experience for our students. We offer a variety of extra-curricular activities to our students and encourage everyone to participate in something. Whatever your interests are, we hope you will join us.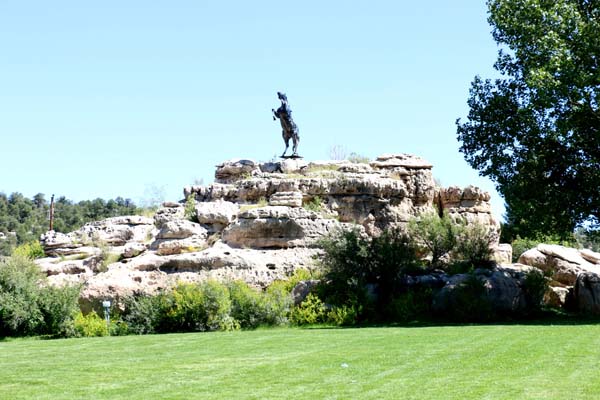 Clubs and Activities
Academic and special-interest clubs are a great way to get involved, show school spirit, and develop skills you can take with you after graduation.
Art Club
We will be offering an Art Club for the students at Mogollon Junior and Senior High Schools through the Meet the Masters program. Students will learn color theory, design, tessellations, lighting, and many other artistic concepts. The Art Club will showcase various "masters", such as Picasso, Escher, Monet, Van Gogh, and more! To join the Art Club, please download and return a completed Art Club permission slip with Art Club bylaws and contract to the school office by Wednesday, January 5, which is the last day to register, as it allows time to order supplies. View our after-school Art Club flyer and the Art Club class calendar for more details.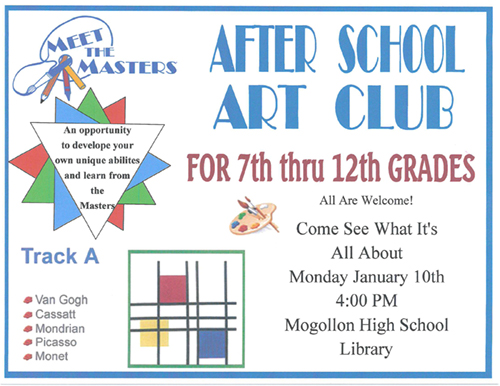 National Honor Society
Qualified members of the NHS have a grade point average of 3.0 or higher. The purpose of NHS is to create an enthusiasm for superior scholarship, develop citizenship, stimulate a desire to serve school and community, develop leadership qualities, and instill exemplary qualities of character.
Robotics
Our Robotics team offers a chance to explore possibilities and solve problems with a team.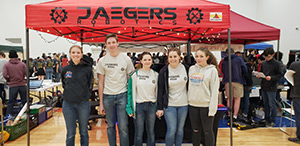 The team did amazing in their recent competition winning the design award and taking first place in the competition as the winning alliance captains. There were 24 teams from AZ competing. We are heading soon to the AZ/NM state championship in Flagstaff.
Ski Club
Members of the Ski Club have a great time on the slopes and take a ski trip about six times every winter. It's an excellent way to enjoy the cold weather, get some exercise, and get away from the pressure of school while having fun with good friends.
Spanish Club
The Spanish Club is an environment outside of the classroom where those who have a passion for Spanish-speaking culture can get together, participate in activities, and meet other like-minded students.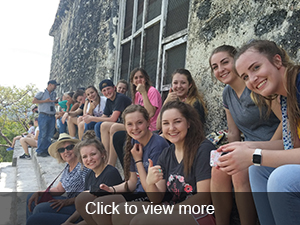 Athletics
No high school is complete without an athletics program that allows student athletes to hone their skills and the student body to show off their school pride.
Baseball
Basketball - Boys
Basketball - Girls
Football
Softball
Track
Volleyball
Wrestling
Sports Schedules
Please view our athletics calendar for all of our upcoming games and events. For your convenience, you may also select and print out the available schedules from the list below.
Student Council
An active student council helps to make MHS the great school that it is. With so many involved students, our school is a leader in school-run activities as well as community service. We hope you will become involved in supporting Mogollon High School through the many activities sponsored by our student council.
Please meet our student officers:
Student Body
President – Kenton Porter
Vice President – Blayk Kelton
Secretary – Seneca Reynolds
Treasurer – Carter Weber

Student Council Representatives by Grade
7th Grade:

President – Myla Porter
Vice President – Emma Rathmann
Class Rep –
8th Grade:

President – Adriel Benitez
Vice President – Autumn Jones
Class Rep –
9th Grade:

President – Quinn Tenney
Vice President – Colten Reidhead
Secretary – Paige Arnow
Treasurer – Cashlyn Hall
Class Rep – Lyla Crandell
10th Grade:

President – Hadley Porter
Vice President – Kindsey Porter
Secretary – Haidyn Franco
Treasurer – Chancy Worlsey
Class Rep – Jackson Blackburn
11th Grade:

President – Morgon Martineau
Vice President – Ryan Ulmer
Secretary – Shealee Arnow
Class Rep – Kaylee McLaws
12th Grade:

President – Lexi Cooper
Vice President – Ila Despain
Secretary – Bethany Beecroft
Treasurer – Shelle Kloeckner
Class Rep – Spenny Porter